About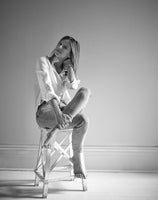 Allison Willson – Creative Director and Founder of Wil & Co.
With over 15 years of interior design experience, Allison's focus is to create environments that feel elegant, clean and organic. And at the heart of every space is beautiful lighting.
Inspired by natural materials and texture, she set out to blend organic elements with clean lines and contemporary forms to create lighting that embodies casual sophistication. By working alongside a talented team of lighting experts and artisans, and with an unwavering commitment to quality, her vision came to life.
What resulted is a line of lighting that is truly unique and ever evolving.
Wil & Co. is proudly Made in Canada and supports local craftsmanship, which allows Allison to take part in the manufacturing process as much as possible – from prototype to your household. We hope you enjoy them as much as we do!